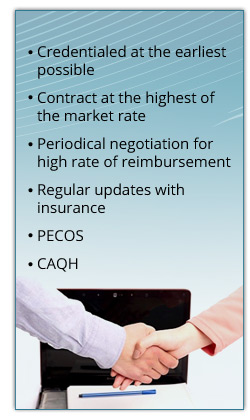 First Health Forces specialize in the process of Government and Commercial Insurance. The team is well aware of the requirements of the industry and also has a tight follow up schedule in place. We are well aware of the basic set ups needed for the provider like PECOS with Medicare and CAQH account.
We acknowledge that the time frame to get a provider is unbearably long, but we make sure that there is no delay as far as action from the provider is needed.
A well-focused effort on negotiating payer contracts can create much needed money for any practice. Health plan contracts are the driving forces for the majority of payment. Better the contracted rate, higher the reimbursement. Furthermore, contract negotiation can be done only at the time of taking the insurance and then at the end of each term period. Be Careful! Whatever has been negotiated at the renewal of the contract will be affecting your practice for next 3 to 5 years, which the usual term of the commercial insurance.