By offering multiple choices for digital dictation from Phone Dictation System to portable digital recorders to PC based dictation systems and voice over internet protocol. Additionally, we use the latest online medical transcription services where we are able to interface with all client computer systems.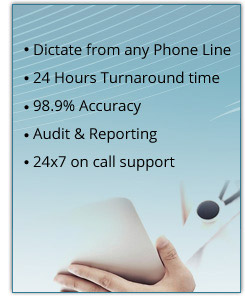 All transferred files are encrypted under HIPAA protocols to ensure the safe and private transfer of data. We are a customer service based medical transcription company with 24 x 7 access to a live person.
We are fully experienced to help healthcare organizations reduce their overall transcription costs by improving their documentation efficiency. We offer custom medical transcription services with a team who is dedicated to ensuring that all of your needs are addressed effectively and promptly to meet all of your unique demands.
Contact us today at (727) 269-5618 or by using the form to the right for pricing quotes, personalized demos, free trials, transcription consultations and additional information about our 100% HIPAA compliant medical transcription and digital dictation services.