Health Information Technology help health care providers to better manage patient care through safe and secure data exchange between providers and with patient.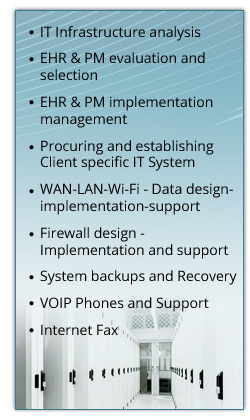 The Health Information Technology for Economic and Clinical Health Act (HITECH Act) was signed into law on February 17, 2009. This law made a transition from paper records to EHR mandatory by 2015 to evade penalties.
With EHR, came interoperability of software. So that exchange and use of exchanged data could be made possible.
Our IT services help healthcare providers provide quality patient care at reduced costs, ensuring adherence to compliance and regulatory frameworks and safe guarding the data from all possible thefts. We provide workforce to adopt, implement and Use of EHR technology for meaningful Use.
Our system services team provides end-to-end solutions for all of your systems delivery needs, which includes general server support functions. The objective is to use effective system management processes and methodologies to improve overall services and reduce costs through sharing "best practices" and standardization. Our IT team has more than 10 year of experience in Healthcare IT.